When it was announced in December that Toni Morrison would have a new novel published in April (God Help the Child), the literary world was abuzz. But if the Toni Morrison news was a large wave, then consider the Harper Lee announcement Tuesday a full-blown earthquake.
HarperCollins will publish Lee's long-lost novel
Go Set a Watchman
July 14, her first since the 1960 publication of the classic
To Kill a Mockingbird
.
"In the mid-1950s, I completed a novel called Go Set a Watchman. It features the character known as Scout as an adult woman and I thought it a pretty decent effort. My editor, who was taken by the flashbacks to Scout's childhood, persuaded me to write a novel from the point of view of the young Scout," Lee said in the publisher's press release. "I was a first-time writer, so I did as I was told. I hadn't realized it had survived, so I was surprised and delighted when my dear friend and lawyer Tonja Carter discovered it. After much thought and hesitation I shared it with a handful of people I trust and was pleased to hear that they considered it worthy of publication. I am humbled and amazed that this will now be published after all these years."
The press release also said that the manuscript was found attached to an original typescript of Lee's classic novel. In Go Set a Watchman, Scout will be heading back to Maycomb, Alabama 20 years after the events of To Kill a Mockingbird to visit her father Atticus. At this point, it would be the 1950s (Mockingbird takes place during the Great Depression), so issues of race in a small Southern town will likely play a role as well as the continued relationship between father and daughter.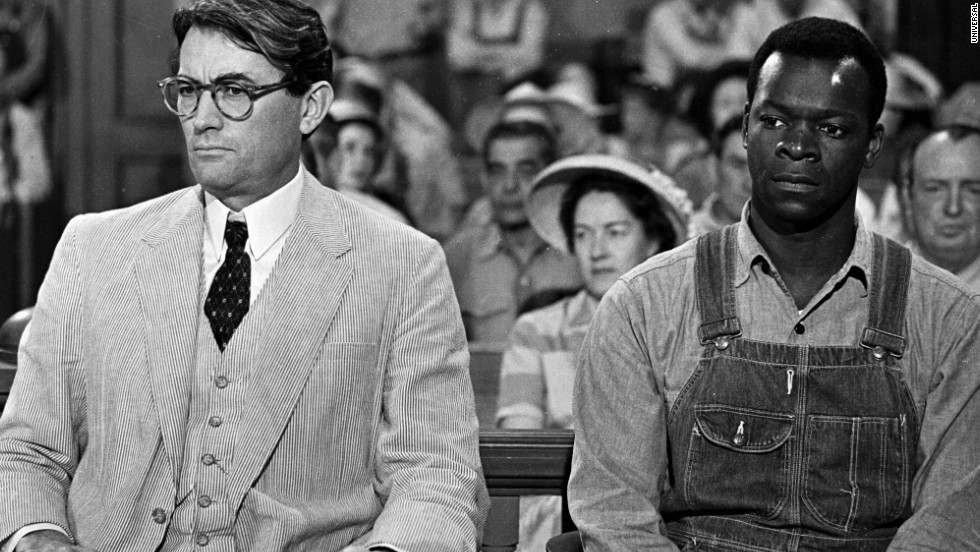 I first read Mockingbird the spring semester of my freshman year of high school. In the fall, we had read John Steinbeck's Of Mice and Men and I did not care for it. My honors English teacher, Mr. Webb, was effusive toward both Steinbeck and Lee. As is the unfortunate norm today, the class was skeptical about reading them. Reading Lee's novel was a delight for me and most of the class agreed. It was through his class that I read Lee's terrific novel and saw the film adaptation starring Gregory Peck, featuring one of my favorite scenes ever, Atticus' closing argument.
The book has been the
target of bans
over the years and been called naive and idealistic in some circles, which I completely disagree. The novel's essence is about growing up and realizing things don't always work out the way they should because of accepted societal horrors like institutional racism. After all, if it were truly idealistic, Tom Robinson would have been set free in the end.
Lee, left, is famously private, so any news regarding her is big news. One of her more recent public appearances was in 2007 when she received the Presidential Medal of Freedom from President George W. Bush. In 2010, she was awarded the National Medal of Arts by President Barack Obama. Last year, former Chicago Tribune reporter Marja Mills wrote a memoir about living next to Lee, who vehemently blasted it on multiple occasions. The literary world is still split on the merits of that book (I have opted not to read it), but it speaks to the general public's desire for more from Lee, since she only wrote one published novel. Thanks to the discovery of the Watchman manuscript, we get to go back to Maycomb as Lee originally wrote it and on her own terms. You can bet that I'll be reading it this summer.
Already, people are speculating as to whether or not it will be able to be successful in the shadow of Mockingbird. Thankfully for me, it has been years since I read Lee's original masterpiece, so I plan to read the sequel first, then the original, so as to not taint the newer novel.