2014 was a great year of reading and as thousands of reviewers put out their best-of lists, I realized I had read 30+ books this year. There was no way I'd put every single one in, so I chopped the list in half. True to my goal to split time between both fiction and nonfiction, the list is about as close to 50/50 as you can get with a top-15 list. Within these fifteen standouts, there's a wide range of genres from sci-fi and romance to memoirs and history.
While most of my reading in 2014 was backlist titles, there were a few new books sprinkled in and a couple of books that just barely made it in before the year closed. Without further a due, here are the top 15 books I read in 2014...
15)
Travels with Casey
by Benoit Denizet-Lewis - 3.5 stars. A great travelogue about dog care in America, both at its admirable best and heart-breaking worst.
14)
The Night Circus
by Erin Morgenstern - 3.5 stars. A wonderfully descriptive book about magicians pitted against each other that helped spark my current audiobook craze, thanks to Jim Dale's terrific narration.
13)
As You Wish
by Cary Elwes - 4 stars. A memoir of the making of the classic film
The Princess Bride
, the audiobook features commentary spoken by most of the cast, which creates a much more engaging read.
12)
The Book with No Pictures
by B.J. Novak - 4 stars. I bought this for my niece and nephew for Christmas and breezed through it as I was trying to figure out that all-important question "Would they like it?" Novak's book challenges the assumption that children's books have to have pictures to be entertaining and encourages interaction between children and their parents.
11)
Behind the Beautiful Forevers
by Katherine Boo - 4 stars. Gut-wrenching tale of life in a Mumbai slum that served as a powerful reminder of how many in the world live in abject poverty and an unquenched desire to better their situation.
10)
A Walk in the Woods
by Bill Bryson - 4 stars. One of the funnier books I read in 2014, this one is considered a classic in the travel genre and it lived up to that reputation.
9)
Mr. Penumbra's 24-Hour Bookstore
by Robin Sloan - 4 stars. The quirkiest book I read and I mean that as a compliment. It's themes of digital information vs. old-fashioned printing are timely and make for a wonderful tale.
8)
The Last Gunfight
by Jeff Guinn - 4 stars. After watching the early 1990's film
Tombstone
, I read this definitive history of that famous shootout and it didn't disappoint.
7)
The Rosie Project
by Graeme Simsion - 4 stars. A genetics professor with autism seeks to find love in a story that says everyone wants to find their soulmate — even the socially peculiar ones.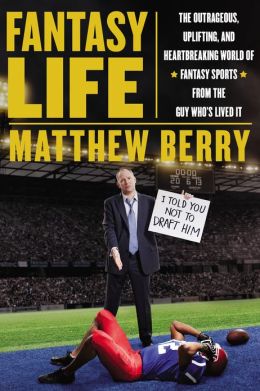 6)
Fantasy Life
by Matthew Berry - 4 stars. The funniest book I read last year. There are fantasy sports team owners (me), fanatics, professionals and then there's the crazies in
Fantasy Life
.
5)
Playing the Enemy
by John Carlin - 4 stars. One of the most informative and impactful books I read in 2014. The story of South Africa's improbable 1995 World Cup victory that inspired the 2009 film
Invictus
isn't just a story of sports transcending the playing field — it's a story of a country healing.
4)
The Curious Incident of the Dog in the Night-Time
by Mark Haddon - 4 stars. I avoided this critically-lauded book for years because of fears it wouldn't portray autism and the struggles of those affected by it well. Shame on me for waiting so long.
3)
Ready Player One
by Ernest Cline - 4 stars. Simply put, the most fun I had reading last year. The story of Wade Watts' quest to solve the OASIS scavenger hunt is a fun ride chock full of 1980's references and heart.
2)
The Boys in the Boat
by Daniel James Brown - 5 stars. A wonderful true story about the University of Washington rowing team and its journey to the 1936 Berlin Olympics. Brown tells the story with zeal and care and as the book progressed, the more I was cheering on the team. In any other year, this would have been No. 1.
1)
Unbroken
by Laura Hillenbrand - 5 stars. After all the hype, I finally picked this book up in March and it became the pace-setter for the year. The life story of Louis Zamperini is meticulously told and delivered with powerful punch after punch. The ripples from this one are still being felt.