One of my favorite fall pastimes has been to participate in a fantasy football league with friends. After having consecutive years of dwelling in the cellar, I though this year was the year my team, A New Hope (complete with a lightsaber logo), would rise from the ashes and take the league crown for the first time. My team has the components to be something special with a stellar quarterback (Andrew Luck), a great running back (Marshawn Lynch) and a good wide receiver set (Alshon Jeffery, Jeremy Maclin, Michael Crabtree, Michael Floyd).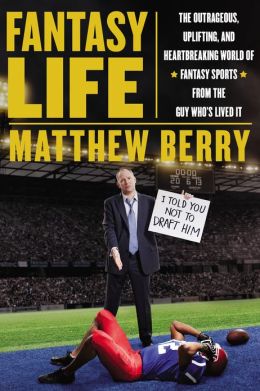 So far, I'm 0-2. As in 0 wins, 2 losses.
Meanwhile, my brother-in-law's team, Honey Baked, is annihilating the competition and took the league award for highest score last week. My dad's team is also doing well despite taking the risk of drafting Jimmy Graham, the tight end from New Orleans, as his first-round pick. Both of their clubs are 2-0.
Such is life during football season when you are in a fantasy league. The camaraderie, rivalries and funny league traditions are perfectly documented in Matthew Berry's Fantasy Life, which came out in paperback earlier this summer from Riverhead.
The book chronicles Berry's time in fantasy sports (he previously worked as a screenwriter on shows like "Married with Children") and harnessing the internet to become one of the most recognizable experts in the genre. In each chapter, Berry tells of the many shenanigans of leagues around the country over the course of a would-be season.
Each chapter reads like an extended post from his "Talented Mr. Roto" blog, so if you are a reader of Berry's online column, the book doesn't stray too far from that writing style. That's not a bad thing, though. There were some moments that were genuinely laugh-out-loud funny and others that left me thinking "Really? You would do that for fantasy sports?"
I am not sure if readers who are unfamiliar with fantasy leagues would enjoy it as much as those who have already caught the bug, but to Berry's credit, there are some anecdotes that involve players' wives and spouses that don't play, showing that side of the sport.
Overall, it's a light and enjoyable read. When I was reading this, I was handling several bleak, high-profile stories, so when I came home from work, this was a welcome respite. Rating 4/5 stars.
Here's an example of one of the more memorable hijinks in the book:
Do you have a favorite fantasy sports moment or embarrassing moment in your fantasy league? Are you guys having any better luck this season than my team?